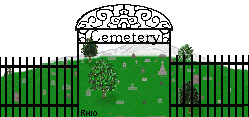 Rosemont Cemetery
Rochester, MN
Rosemont Cemetery was the original cemetery used for patients of the Rochester State Hospital from 1879 until 1887. The exact location of this cemetery is unknown but it is believed to be north of the Hospital, on the north side of the railroad tracks. That area is now wooded and no markers exist because they were made of wood.
According to an existing plot map of the cemetery, it was laid out north-to-south in 4 rows of 22 burial plots and was approximately 110 ft x 50 ft in size. Men were buried in the two rows (1 & 2) on the left (west) side and women were buried in two rows (3 & 4) on the right (east) side.
The burials in this cemetery have been transcribed by rows and alphabetically.
If you have information about burials in this cemetery to share
please contact me. Thanks, Shirley
---
Row 1
space 1 - Bentley, William b. 1847 d. Sep. 10, 1884
space 2 - Leeson, Richard b. 1813 d. Oct. 1, 1884
space 3 - Meddock, Oliver b. 1848 d. Jan. 29, 1885
space 4 - Peterson, Bernard b. 1858 d. Jan. 20, 1885
space 5 - Montgomery, V. b. 1834 d. Jan. 29, 1885
space 6 - Barron, Michael b. 1835 d. Mar. 17, 1885
space 7 - Olson, Gustav b. 1831 d. Mar. 20, 1885
space 8 - Lundgreen, Andrew b. 1838 d. Jun. 27, 1885
space 9 - Lohman, William b. 1864 d. Jun. 28, 1885
space 10 - Jackson, William b. 1811 d. Aug. 3, 1885
space 11 - Felding, John b. 1861 d. Oct. 9, 1885
space 12 - Ammundson, Arnt b. 1858 d. Oct. 30, 1885
space 13 - Jameson, Ole b. 1827 d. Nov. 7, 1885
space 14 - Marshall, Stearns b. 1827 d. Nov. 10, 1885
space 15 - Ladeau, James b. 1841 d. Feb. 2, 1886
space 16 - Ware, Tyler b. 1801 d. Jul. 6, 1886
space 17 - Schumann, Charles b. 1840 d. Feb. 7, 1886
space 18 - Odette, Etienne b. 1805 d. May 5, 1885
space 19 - vacant
space 20 - vacant
space 21 - vacant
space 22 - vacant
Row 2
space 1 - Resch, Simon b. 1851 d. Oct. 24, 1879
space 2 - Little, Samuel b. 1830 d. Oct. 16, 1880
space 3 - Rohrbacker, Isaac b. 1804 d. Nov. 5, 1880
space 4 - Bradford, Burton S. b. 1850 d. Mar. 18, 1881
space 5 - Hartkorn, Christopher b. 1840 d. May 20, 1881
space 6 - Jackson, Andrew B. b. 1847 d. Sep. 20, 1881
space 7 - McLaughlin, Otho b. 1835 d. Jan. 18, 1882
space 8 - Griffith, John W. b. 1856 d. May 9, 1882
space 9 - Peterson, Albert b. 1842 d. Jun. 1, 1882
space 10 - Hanson, Hans b. 1845 d. Jun. 12, 1882
space 11 - McCarthy, Charles b. 1849 d. Jul. 14, 1882
space 12 - Polson, Samuel E. b. 1848 d. Jul. 28, 1882
space 13 - Westline, Frederick b. 1857 d. Nov. 21, 1883
space 14 - Flaherty, Austin b. 1868 d. Dec. 4, 1883
space 15 - Engen, Thomas b. 1859 d. Dec. 15, 1883
space 16 - Svendson, Simon b. 1808 d. Jan. 17, 1884
space 17 - Shinn, Joseph b. 1833 d. Feb. 4, 1884
space 18 - O'Rourke, Thomas b. 1847 d. Mar. 1, 1884
space 19 - Moore, Malcolm b. 1832 d. Mar. 11, 1884
space 20 - Simonson, Andrew b. 1844 d. Mar. 12, 1884
space 21 - Short, John b. 1859 d. Jun. 15, 1884
space 22 - Cowan, George b. 1841 d. Aug. 18, 1884
Row 3
space 1 - Lucasen, Isabell b. 1840 d. Mar. 8, 1882
space 2 - Houck, Betsey b. 1800 d. Jul. 14, 1882
space 3 - Brand, Barbara b. 1851 d. Aug. 17, 1882
space 4 - Fosterman, Caroline b. 1811 d. Oct. 2, 1882
space 5 - Lytton, Eliza b. 1824 d. Apr. 22, 1883
space 6 - Neller, Margaret b. 1829 d. Dec. 17, 1883
space 7 - Edwards, Eliza b. 1838 d. Feb. 24, 1884; disinterred 1919 and buried elsewhere
space 8 - Brandt, Theresa b. 1835 d. Mar. 2, 1884
space 9 - Sheppard, Jeanette b. 1844 d. Mar. 4, 1884
space 10 - Remmick, Sarah b. 1849 d. Mar. 9, 1884
space 11 - Vogelman, Mathilda b. 1846 d. Apr. 2, 1884
space 12 - Carpenter, Rollie b. 1829 d. May 30, 1884
space 13 - Barber, Hannah C. b. 1808 d. May 30, 1884
space 14 - Leask, Margaret b. 1810 d. Jun. 4, 1884
space 15 - Peterson, Hannah b. 1843 d. Jun. 26, 1884
space 16 - Lueck, Anna b. 1849 d. Oct. 7, 1884
space 17 - Smith, Elizabeth A. b. 1832 d. Oct. 16, 1884
space 18 - Gracy, Betsey b. 1813 d. Jan. 4, 1885
space 19 - Fisher, Mary M. b. 1844 d. Jun. 27, 1886
space 20 - Martin, Mary b. 1845 d. Jun. 26, 1886
space 21 - Williams, Florence b. 1864 d. Jul. 14, 1886
space 22 - Johnston, Christine b. 1836 d. Jul. 16, 1886
Row 4
space 1 - vacant
space 2 - vacant
space 3 - vacant
space 4 - vacant
space 5 - vacant
space 6 - vacant
space 7 - vacant
space 8 - vacant
space 9 - Erickson, Ingra b. 1823 d. Mar. 12, 1885
space 10 - Barrett, Mary Odell b. Nov. 17, 1799 d. Jan. 30, 1883
space 11 - Ronneberg, Wilhelmina b. 1829 d. Mar. 14, 1885
space 12 - Gunnelson, Margit b. 1848 d. May 14, 1885
space 13 - Ford, Jennie b. 1853 d. Dec. 10, 1885
space 14 - Carlson, Alma b. 1863 d. Dec. 25, 1885
space 15 - Nebb, Mary Olson b. 1823 d. Jan. 6, 1886
space 16 - Fossen, Anna b. 1830 d. Feb. 8, 1886
space 17 - Montreal, Catherine b. 1816 d. Mar. 24, 1886
space 18 - Swenson, Annie b. 1835 d. Mar. 27, 1886
space 19 - Nygaard, Nettie b. 1846 d. Apr. 12, 1886
space 20 - Baus, Rosa b. 1831 d. Apr. 20, 1886
space 21 - Sage, Ida L. b. 1853 d. May 1, 1886
space 22 - Helmer, Petrine b. 1842 d. Jun. 17, 1886
---